Establishing Your Password
After you are approved for Online Banking please wait one business day to finish the activation process by logging in as a first time user.
For your security, you are not provided with an initial password by ENB to log in to ENB's Online Banking. Instead, you can create your own secure password by following the steps below.
Step 3
Read and accept the Online Banking acceptance.
Step 4
Before you can enter a password, you will be required to first enter a Secure Access Code. You can choose to receive this code by text message, phone call or email. Select how you'd like to receive your Secure Access Code and click the SUBMIT button
NOTE: Delivery channels are based on the contact information that ENB has on file for you.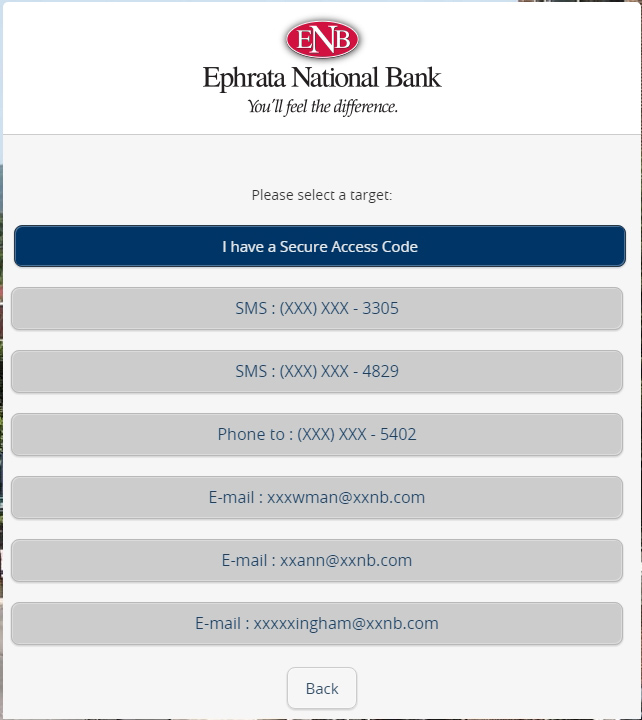 After selecting a Secure Access Code delivery channel, DO NOT CLOSE THE ONLINE BANKING BROWSER WINDOW.
Step 5
Check your requested delivery channel for your Secure Access Code
SMS Text Message:  Secure Access Codes sent via SMS Text Message will appear as coming from 878-787. This is not your secure access code. You will need to open the text message to view the code.
Email Message:  Secure Access Codes sent via email can be viewed in your email program or web-based email. The email will come from Notifications@EphrataNationalBank.com
Phone Delivery: Phone calls with your secure access code will be made almost immediately after you click "submit". For security purposes, the Secure Access Code will not be left on voicemail. The code will be referred to as a "Temporary Access Code" in the message.
Secure Access Codes expire 20 minutes after delivery. Once a code is used, it expires and cannot be reused. You will need a separate access code for each login that you wish to register.
Step 6
Once you receive your Secure Access Code, go back to the Online Banking Browser window.
Step 9
Click the Submit button.
Step 10
You will see your dashboard and are ready to use Online Banking.