#ImpactLancaster – Banking on our Future
March 18, 2016
The Lancaster Chamber of Commerce & Industry introduced the #ImpactLancaster Leadership Challenge earlier this year at the Cocalico Ephrata Consortium meeting. The new initiative challenges the Lancaster County community to identify, create, and implement a solution to a broad business or community challenge. At the meeting it was identified that one of the challenges our community faces is that many students graduating from High School are not prepared to enter the workforce. The impact of this challenge resonated with several Ephrata National Bank employees at the meeting because within the banking community industry leaders have identified a shortage of talent as one of the biggest risks for the future of banking. The parallel between the challenges of the community and banking inspired them to form an ENB Project Team to assist in tackling the issue to become part of the solution. The ENB Project Team is Mark Thompson, Manager of Deposit Service; Nick Klein, Senior Credit Risk Review Officer; Ashley Bowman, Director of Training; and Nicole Shipton, Blue Ball Office Manager.
The ENB Project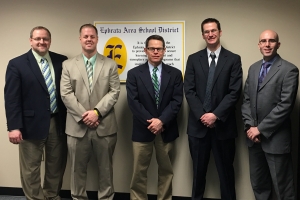 Team determined that as a first step to they wanted to partner with the Ephrata Area School District (EASD). On Thursday, March 17, 2016, the team met with Dr. Troop, EASD Superintendent; Richard Hornberger, Assistant Superintendent for Secondary Education; and Scott Galen, Ephrata High School's (EHS) Principal to share their vision of the project. The ENB Project Team and EASD formed a partnership, identifying a mission of improving awareness of the professional opportunities available and encouraging Lancaster County students to build careers locally, which in turn will help retain the talent of future generations in the County.
For the initial phase of the project the group will enlist the help of the Ephrata High School (EHS) Production Class to produce a short video of ENB employees talking about their roles at the bank, and how they entered the banking industry. The video will be presented to multiple business classes at EHS. Additionally, ENB employees will visit selected business classes to discuss banking career opportunities, financial literacy, and the impact that community banking has on its community.
Phase two will provide the opportunity for EHS students to tour ENB's Main Office. The tour will educate students about different job functions within the bank and ENB's history.
The third phase involves partnering with the AP Economics course to create a "Career Day" where students will gain a better understanding about specific units within the bank, business ethics, how banks handle major decisions, and the impact of everyday changes for both bank employees and customers. The opportunity will allow students to recognize the many job opportunities that exist in banking and finance.
The long-term goal is to help today's students be tomorrow's leaders by demonstrating how many excellent job opportunities exist in Lancaster County. The group hopes to expand this project to other school districts in Lancaster County and encourage other Lancaster County businesses to provide career days for other industries.
Keep up with the progress of ENB's Project Team and Ephrata Area School District by following us on Facebook and Twitter. #Impact Lancaster
Back to Blog >