SBA Paycheck Protection Program Deadline Extended
March 31, 2021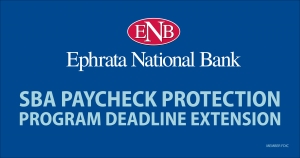 On March 30, 2021, President Biden signed The PPP Extension Act to extend the loan application deadline for the Paycheck Protection Program (PPP) through May 31, 2021. The 60-day extension will allow applicants an additional two months to apply for a first or second draw PPP loan. ENB will continue to help eligible businesses in our community by accepting applications until May 23, 2021.
The newly signed bill also affords the Small Business Administration until June 30, 2021, to process lender applications. This is great news for many struggling small businesses who may have otherwise not received approval of their PPP loans due to paperwork delays preventing them from being approved before the March 31 deadline.
For more information on the PPP loan program, visit our PPP Loan Resource Center. If you'd like to apply for a first or second draw PPP loan, please use our online application or call our PPP Loan Team at (717) 721-5205 to schedule an appointment.
Back to Blog >