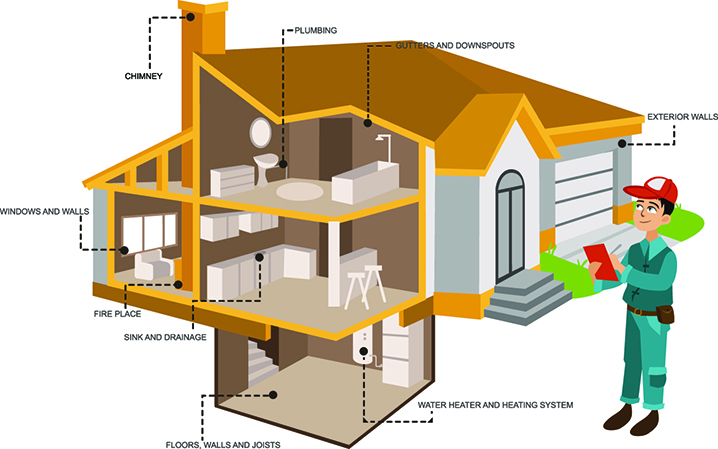 Is a Home Inspection Necessary?
April 22, 2019
After months of looking, you finally found your dream home. It's located in an area with a low crime rate, in one of the top school districts in the region, and to top it off – your move-in ready home is a few short miles from your employer. You'd move in next week if you could. But, before you rush to the closing table, your real estate agent will likely suggest presenting a contingency offer to the seller that includes a home inspection.
There's a reason 89 percent of buyers have an inspection conducted before buying a home. It's smart. Securing a home inspection from a licensed professional can prevent you from inadvertently purchasing a money pit.
What is a Home Inspection?
A home inspection is a formal, visual evaluation of the condition of the home performed by a licensed professional. The purpose is to alert both buyers and sellers of defects that should garner the attention of one or both parties. The inspection should be performed whether you're looking to purchase a newly constructed or an existing home.
The examination includes both the interior and exterior of the house, but it does have limitations. Home inspections do not examine the insides of walls, electrical panels, or sewer lines. If there's a suspected issue, the inspector will refer you to an appropriate professional for further review.
Most home inspections include an examination of the major systems of the home such as electrical wiring, heating, ventilation and air conditioning, as well as plumbing.
The home inspection report should list specific safety issues, interior and exterior defects, and recommendations for repairs. It may also include items that aren't necessarily a concern now but should be monitored for service or future replacement, e.g., water heater, gutters, etc.
Why a Home Inspection is Important
The importance of a home inspection cannot be understated. It allows homebuyers to negotiate the final sales price or walk away from the purchase using an inspection contingency clause. Buyers can work with the seller on the costs to fix items identified in the report before or as a condition to closing. A buyer's agent should include a provision in the offer that frees the buyer from the obligation to purchase the home if the inspection reveals damage or needed repairs that exceed a specific dollar amount.
How Long Does a Home Inspection Take?
It takes approximately three hours for a home inspector to assess the condition of the home. After the inspection is finished, it can take several days to receive a copy of the inspection report. The time it takes to resolve any issues identified in the report will vary.
How Much Does a Home Inspection Cost?
The cost of a home inspection is influenced by the size of the home, the area of the country, and the experience of the inspector. An inspection for a residence larger than 2,000 square feet may cost $400 or more. Generally, home inspection services charge between $300 and $500 per inspection. Additional or specialized inspections often cost more, e.g., professional engineering inspections.
Where to Find Home Inspection Services
Paying for a home inspection may seem expensive but picking the wrong inspector can be costly. Homebuyers can use consumer-rated websites such as Angie's List or HomeAdvisor to find highly rated home inspection services in their area. Or homebuyers can search on the American Society of Home Inspectors to find a certified home inspector. Your realtor can also recommend a home inspector. Regardless of the source, you'll want to verify the credentials of a home inspector to make sure they're licensed before making a hiring decision. Also, contact the Better Business Bureau for any past complaints.
Falling in love with a home is easy to do. Avoid a broken heart by completing a home inspection as a condition of purchase. Discovering a home defect post-closing can be devastating both emotionally and financially. If an issue surfaces during the inspection, you might be able to renegotiate a lower purchase price, have the seller pay for the repairs, or opt-out of the deal altogether.