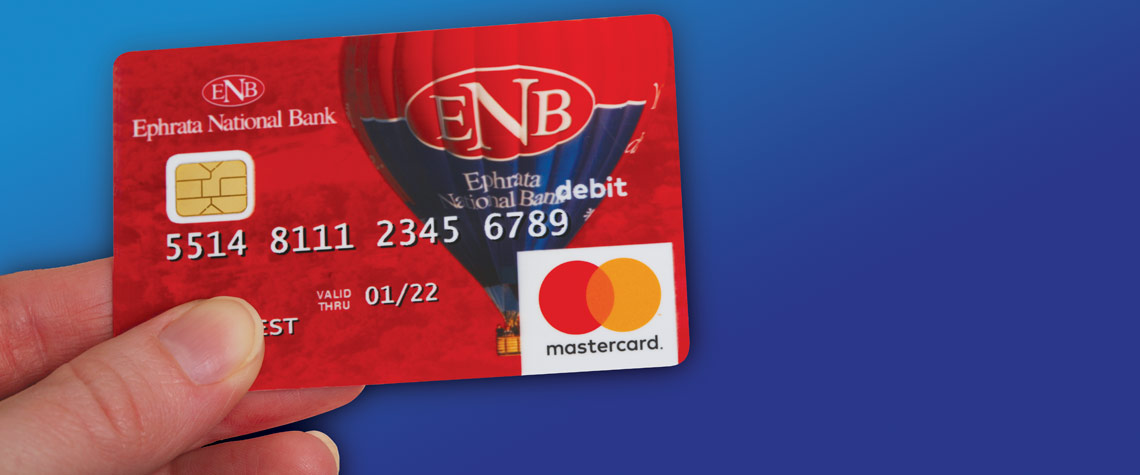 Debit Mastercard
ENB's Debit Mastercard® provides an easy, convenient way to make purchases from your checking account. It's safer than carrying cash and faster than paying with a check. Use your card anywhere you see the Mastercard® logo.
Get Your Debit Card Immediately with Card On The Spot
Card on the Spot is our service that provides you with a new Debit MasterCard as soon as you open a checking account at any full-service ENB Community Banking Office. That's right – you'll get your card before you walk out the door! No waiting for days to receive your card in the mail. And if you ever lose your debit card, any ENB full-service branch will give you a replacement card on the spot.
If you'd prefer to open your checking account online and would rather not visit a branch – no problem. We'll send your new Debit MasterCard to you by mail.
Digital Wallet Compatible
ENB Debit MasterCard® can be used in the Apple Pay, Google Pay and Samsung Pay. By adding your ENB Debit MasterCard to one of these popular digital wallets, you can make contactless payments that are fast, safe and secure whether you're at the check-out counter, gas pump or drive-thru window.
Safer and More Secure
ENB's Debit MasterCard comes with several features to keep your money safe.
EMV Chip:  Every ENB Debit MasterCard is embedded with an EMV chip, which helps reduce card fraud resulting from security breaches of retail payment systems.
Debit Alerts:  With Debit Alerts, you receive a text message or email when your card is used allowing you to monitor for potentially fraudulent transactions. Custom alerts include purchases over a selected dollar amount, international purchases, online purchases or declined purchases.
Help keep your account secure.  Register /Login for Debit Alerts
Related Insights
How Can I Protect Myself from Debit Card Fraud?
Read more >