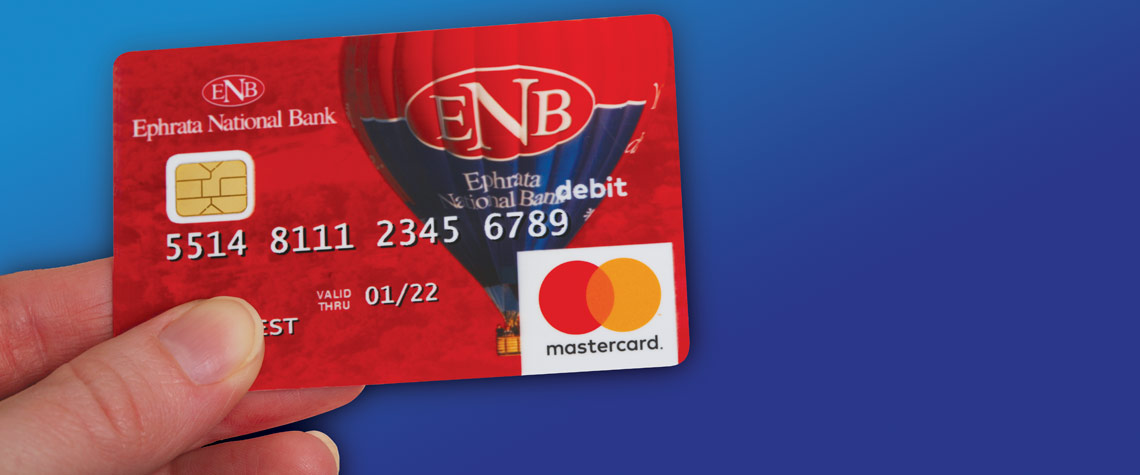 Instant-Issue Debit Mastercard
ENB's Card On The Spot is our instant-issue debit card. It's an easy, convenient way to make purchases with funds from your checking account. It's safer than carrying cash and faster than paying with a check. Use your debit card anywhere you see the Mastercard® logo.
How Card On The Spot Works
Open an ENB checking account at any full-service branch office. Choose any one of our five easy-to-understand checking accounts.
Get your debit card immediately. That's right – you'll get your card before you walk out the door! No waiting for days to receive your card in the mail.
And if you ever lose your debit card, any ENB full-service branch will give you a replacement card on the spot.
Safer and More Secure
ENB's Card On The Spot includes an EMV chip that helps reduce card-present fraud. Its MasterCard® SecureCode provides an added layer of online shopping security, as only you and ENB know your code. Enable your debit card alert functionality to stay informed of activities on your card and connected account.
Help keep your account secure.
Register for MasterCard® SecureCode
Easier to Use
ENB now allows our ENB Debit MasterCard® to be used in your favorite Digital Wallet
Related Insights
How Can I Protect Myself from Debit Card Fraud?
Read more >