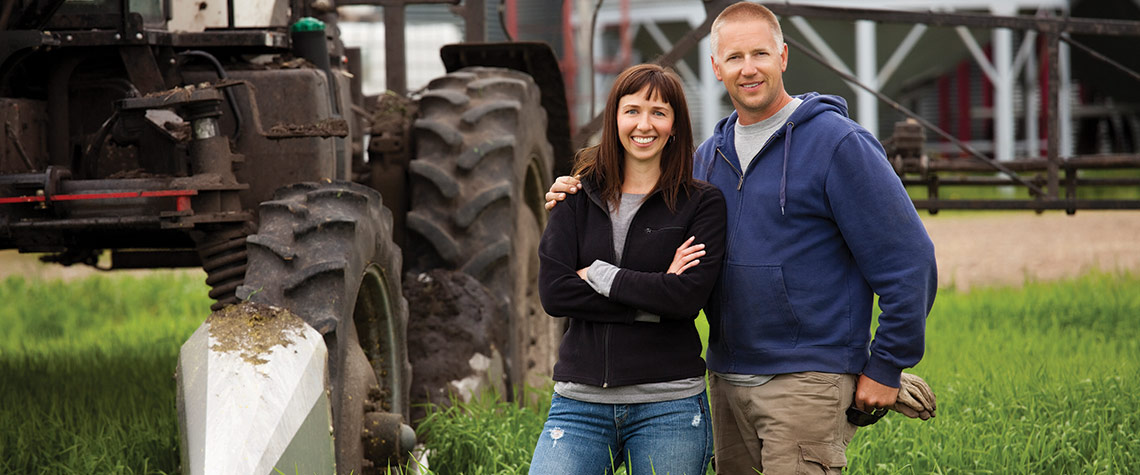 Agricultural Banking
At ENB, we understand running a farm operation and managing your family's personal finances are uniquely intertwined. And when it comes to banking, the standard products and services often don't really fit what you need.
We start by listening to learn what your farm and family goals are. Do you have a vision for purchasing more land or expanding the operation? Are you working tirelessly to pay medical expenses or your family's education? Is transferring the business to children in your plans? Are you simply striving to be profitable? We then conduct a condition assessment of your operation and finances and begin to chart a path forward. We leave no stone unturned when giving you options.
ENB is far more than a farmer's source for lending. Our Agricultural Relationship Managers use their agribusiness knowledge and financial expertise to analyze and advise.
How We're Different
What makes ENB ultimately different than other banks – and better for you – is that we're not constrained by typical bank thinking or big bank bureaucracy. We give you the best financial configuration for your success and your family's well-being.
We'll see if realigning your financial position will bolster your business and protect your family. We'll help decide if borrowing is what's best to achieve your plans, or we'll restructure your debt to improve cash flow and reduce overall interest expense. We work alongside you to help maximize your profitability and accumulate wealth.
It's vital to your long-term success to separate aspects of your farm's and family's finances. As a result, we get creative by utilizing personal and business banking products and services to make sure you're getting what's best for your unique situation. And because situations evolve over time, we stay connected and advise when changes are best for you.
Our Process
You can come to one of our branches, but your ENB Agricultural Relationship Manager is happy to come to you.
It all starts with your Agriculture Relationship Manager who will visit your farm to take a tour and study your operation. They'll look through your farm finances. They can help with your family's budgeting. Their focus is on making sure the farm business is supporting the family's interests. Solutions that uniquely blend banking and money management products and services include:
Utilizing business and personal banking products for creating "family accounts" and "farm accounts" specific to your needs
Setting up electronic funds transfer from your farm account to the family account
Facilitating ease of deposits whether in person, by mail, courier pick-up, or digitally
Restructuring debt, if that's best for the business and family, and setting up a line of credit
Formulating retirement and farm transition strategies
Your Relationship Manager will direct a team of ENB experts who can best meet each of your needs, so you feel completely supported.
We're the only bank in the area that will set up Sweep Accounts designed for farmers where your money automatically moves back and forth (overnight each day it's needed) to reduce interest paid on line of credit balances and avoid checking overdrafts where banks charge fees.
We'll also include interest-bearing accounts and financial planning to make sure day-to-day operations help advance your personal needs and goals.
ENB has all of the tools that can make you successful. Our community bank structure and servant-mindset allow us to set them up in ways that are unique to your farm and your family.
All decisions are made locally, and your Agricultural Relationship Manager is empowered to work in your best interest within financial guidelines.
Take the First Step
Let's start with a no-obligation visit to your operation. If you're willing to have a confidential conversation, we'll ask all the right questions to learn more about your farm and family. We'll share how ENB can specifically help you in the areas of banking, cash management, credit card processing, and retirement planning among others. We'll be honest with the extent to which we can help. We believe you'll feel the difference in our farming knowledge, simple banking philosophy, business acumen, and ability to serve your interests.
You won't give anything up switching to ENB, except the hassles and disappointment you may be experiencing with your current bank. And some of those annoying fees.
You don't farm without a strategy. So let us help you develop and successfully implement a strategy toward stability and profitability, so you can build equity, retire comfortably, and pass the business to your family with little or no debt.
Related Insights
15 Questions to Ask Before Purchasing Farmland
Read more >
Things to Think About When Financing Ag Equipment
Read more >
10 Financial Tips for America's Young & Beginning Farmers
Read more >