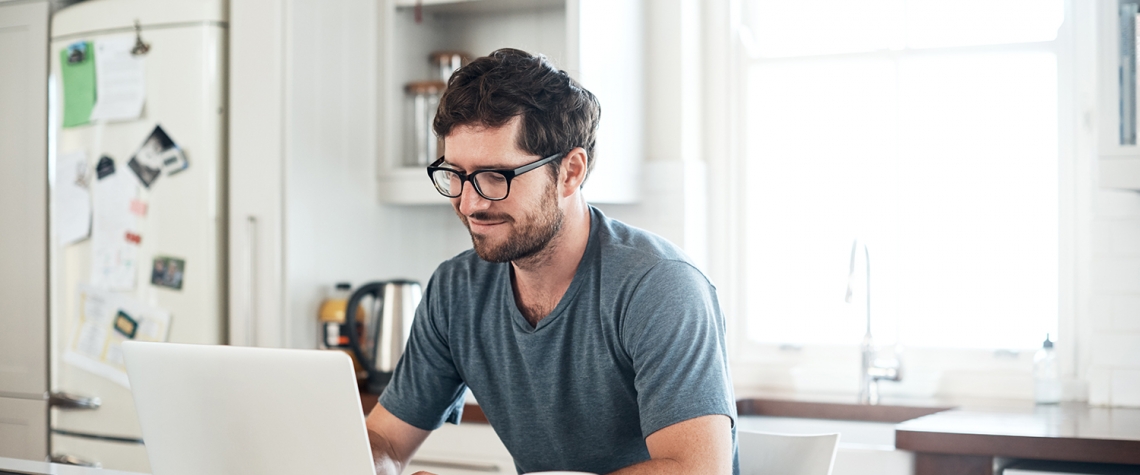 Is It Time to Buy a Home? Make the Right Call by Asking These 6 Questions.
October 20, 2022
Nothing is as much a part of the American dream as owning a home. Your parents may have owned the home you grew up in. Your former roommate may be getting preapproved for a mortgage. The words "Why rent when you can own?" are everywhere.
But before you make the leap from renting to buying, consider the benefits and drawbacks for both. To help you get started, here are six questions to ask when deciding whether to rent or buy.
1. Is Renting Right for Me?
While you may be feeling pressure to buy a home, there are many reasons why renting could also be a smart move.
 Benefits of Renting
Flexibility: A lease agreement usually lasts one year, so you can relocate quickly to take advantage of new career and social opportunities.
Minimal upfront costs: Renting requires a security deposit equal to one month's rent. You may also be asked to pay the first month's and last month's rent upfront. After that, you owe nothing else aside from your monthly rent and a few other expenses (like certain utilities or renters insurance).
Minimal maintenance costs: When you rent, your landlord handles maintenance and repairs. Your landlord may also pay for some utilities like gas, water, and electricity.
Drawbacks of Renting
Cost increases: As a rule, rents only go up. While different areas have limits on how much a landlord can increase your rent year over year, you'll typically pay more for rent over time.
Limited control: Hate the color of the bathroom? Wish your kitchen had more counter space? As a renter, you're not allowed to make changes without getting approval from the landlord. And the benefits of the changes you make increase the value of a property you don't own.
No return on investment: This is the big one. As a renter, the money you pay in rent only goes into your landlord's pocket. Renting does not increase your net worth.
 2. Is Buying Right for Me?
Buying a home is a big commitment, and one that can define your life for years to come. Before you start house hunting, consider the benefits and drawbacks of buying.
 Benefits of Buying
Stability: Being a homeowner gives you greater stability, which is important if you're starting a family or saving for your future.
Predictable payments: While rents increase over time, your monthly mortgage payment will stay roughly the same over the life of the mortgage (if you have a fixed-rate loan, as many homeowners do). You may even be able to refinance later to lower your monthly payment or shorten the length of your mortgage.
Ability to build wealth: Owning a home is one of the most time-honored ways for Americans to build wealth for the future. Because home values generally appreciate over time, the longer you own your home, the more it's worth when you sell it or pass it on. You'll be able to recoup much of the money you invested in your home through years of mortgage payments.
Greater control: When you own a home, it's yours to change as you see fit. You can repaint, renovate, and upgrade, which contributes to the home's overall value and your quality of life. You'll have no landlord to answer to.
Pride in ownership: As a homeowner, you have a vested interest in cleaning and maintaining your home. The same holds true for your neighbors, so homes in your area may be better cared for than rental units.
 Drawbacks of Buying
Upfront costs: Buying a home costs much more upfront. In addition to a down payment, which in many cases is tens of thousands of dollars, you'll have closing fees and other expenses that are part of the cost of buying.
Regular maintenance costs: When you own a home, you're responsible for everything in your home, from utilities and yard maintenance to major repairs and annual taxes.
Additional costs: When you own a home, you'll have additional costs to manage that you typically don't have when you rent, including water, sewer, and trash removal.
 3. How Much Home Can I Afford?
When you're buying, you need to consider the monthly expenses that you'll have compared to renting.
Mortgage payments
Property taxes
Homeowners insurance
Utilities
Neighborhood/homeowner association fees
If you can pay for everything for the same amount that it costs to rent, buying is a smart move. If these costs are significantly more expensive than renting a similar property, you may want to keep renting and invest the difference.
4. What Is My Financial Situation?
When you're applying for a mortgage, expect a thorough review of your financial situation. A financial institution will want to know the following:
What is your credit score?
How much debt do you have?
What is your income and employment history?
What other assets do you have?
What are your monthly expenses?
These factors will determine what type of loan you can qualify for and your interest rate. A lower interest rate can save you tens of thousands of dollars over the life of the loan. If your credit score is low, you have a lot of debt, or your income is inconsistent, it may be smarter to rent while you build up your savings and credit.
5. How Large a Down Payment Can I Afford?
The more you can pay upfront to secure the mortgage (the amount you'll borrow to pay for the house), the better your mortgage interest rate is likely to be. If you can't put 20% down, you'll be required to pay for private mortgage insurance (PMI). PMI costs typically range from 0.25% to 2% of the mortgage loan balance and will depend on the size of your down payment, the amount of your mortgage loan, the loan term, and your credit score. You'll pay PMI every year until you reach 20% equity.
If you are struggling to come up with a down payment, there may be a government-backed mortgage option that could help. Or, it may be a good idea to postpone house hunting and put your efforts into saving instead.
6. How Long Do I Plan to Stay?
Buying a home should be treated as a long-term commitment. While a home pays off in the long run, your mortgage for the first few years will primarily go toward the interest, which means you won't build up much equity. Experts suggest that you keep your home for at least five years before selling it. By that time, your property should appreciate enough to result in a return on your investment.
If you're planning to stay for less than five years, renting may be the way to go. You can always use the time to improve your credit score and put together a down payment.
Still Not Sure?
Buying a home is a big decision, so take all the time you need. Even if buying a home isn't right for you yet, it never hurts to start researching the housing market, reviewing your financial situation, and taking steps to improve your credit and build up your savings for a future home. One of ENB's Mortgage Experts would be happy to discuss all the options available to you, because the more you prepare now, the easier it will be to buy a home when you're ready.