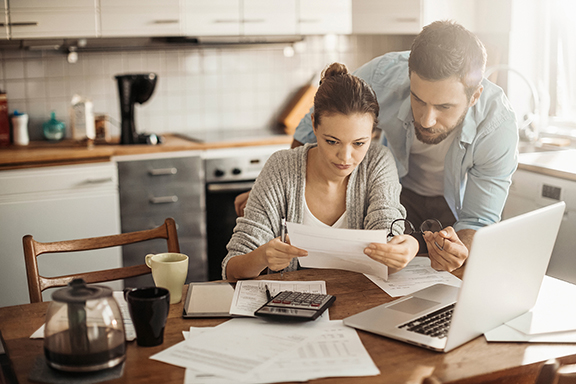 Understanding Home Appraisals
November 09, 2023
Before your lender will let you buy a new home, you'll need to have it appraised. This is an often overlooked but important step in your homebuying journey.
Buying a new home or refinancing? One part of the buying or refinancing process that is easily overlooked is the home appraisal. This is a crucial step that occurs during the period between making an offer and closing on your home. To help make your home-buying process as easy as possible, it's a good idea to know what a home appraisal is and why it's important.
What Is a Home Appraisal?
Before you buy a home, lenders will order a professional appraisal during the mortgage loan process. The goal is to have an objective assessment of the home's fair market value to ensure that the loan you're requesting aligns with the home's actual value.
A home appraisal focuses on everything permanently attached to the property. The appraiser will:
Review sales information of other homes in the neighborhood and the value of the property after any recent sales
Look at the home's general specifications, including upgrades, square footage, number of rooms, and lot size
Assess the overall condition of the home
Who Is the Appraiser?
Home appraisers are hired directly by the lender and paid for by the homebuyer. They are licensed or certified professionals who are legally required to provide unbiased reports and substantiate their findings with documented proof. For home appraisers to be successful, they must be consistent in how they operate. They have no allegiance to the homeowner, lender, or you.
What Can I Expect to See In the Report?
The appraisal report will include the date and appraised value of the home. It will also include factors the appraiser considered in determining the value. These can include:
Characteristics and features of the property
Details about local comparable properties
Market price trends
Any other factors that were considered
How Much Will It Cost Me?
While prices can vary depending on location and the home's size, the appraisal generally costs between $500 and $700. While the lender will schedule the appraisal, you may also need to coordinate with the appraiser if they want to look at your home if you are refinancing, and if you're buying a home, they will need to coordinate with the seller or realtor.
What Can I Do to Improve My Appraisal Price?
As a seller, we all hope to get a good price when we're having our home appraised. While staging and cleanliness are invaluable when showing and selling your home, it won't count as much for the appraisal. Instead, appraisers are looking at bigger-picture issues. Appraisers often value homes by $500 increments, so if there are repairs over $500 that you've been putting off, do them before the appraisal. The appraiser also considers your exterior, so improve your curb appeal by tending to your landscaping, unclogging your gutters, replacing broken exterior light fixtures, or touching up the paint.
Appraisers are good at knowing what to look for, but there may be details about your home that they may not know. If you've made improvements or repairs or replaced major appliances, inventory everything you've done. If there have been recent changes to your neighborhood, like a new school, a park expansion, or an influx of new buyers, let your appraiser know that as well.
What if My Appraisal Doesn't Match the Sale Price?
When you receive the appraisal report, you may find that it undervalues your potential home. There are several reasons why the appraisal value may be lower than the home selling price:
Artificially inflated prices
Home issue that impacts value
Sudden shifts in market value
Foreclosures or short sales in the neighborhood
If the home value is significantly lower than the sale price, don't panic. The lender's chief concern is the loan-to-value ratio, which equals the loan amount divided by the home's value. Depending on the program you are applying for, the ability to obtain mortgage insurance if the loan-to-value comes in higher than 80%, and your ability to put more money down, there are many options when this occurs.
For the seller, a low appraisal may mean that they may need to either lower the price, correct any issues with the home before closing, or offer cash back on the sale. If the seller is unable or unwilling to do any of these things, they are within their rights to request a second appraisal, although the lender is not obligated to honor this request. If a second appraisal is ordered and matches the first, and the seller is still unwilling to modify their offer, it may be a sign that you need to walk away from the sale.
Finally, when working with an appraiser, remember that they are intended as a neutral party. If you have concerns about your appraiser, call us at (877) 773-6605 so we can help you understand your options.