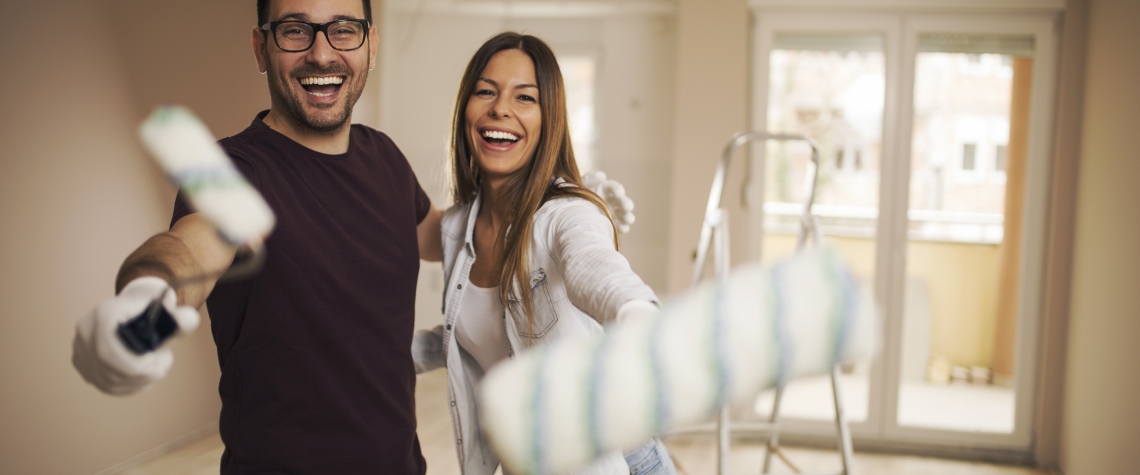 3 Foolproof Ways to Remodel on a Budget
June 08, 2020
When funds are sparse, but creativity is abundant, tackling budget-friendly remodeling projects might be the answer. Simple, low-cost makeovers can add value to your home while showcasing your unique personality. There's no need to hire a team of experts. Focusing on small changes can keep costs down and result in the updated look you desire – no contractors, architects, or designers required.
Here are a few ways to make remodeling on a budget as simple as 1-2-3.
1. Focus on The Big Picture
Before you hammer your first nail or rip through your carpet with a utility knife, decide on your remodeling goal. Is your aim to make repairs, install upgrades, expand a room, or simply change the aesthetics of your home? Knowing the primary purpose of the remodeling project can help you stay focused and on budget.
If your plans include a lengthy list of remodeling ideas, name one of them as the top priority. For example, repairing a leaky faucet should come before replacing outdated, but functional, doorknobs. Then, determine if your priorities match your budget. When you compare maximum return to money spent, it becomes easier to say "not now" to costly projects.
Homeowners unsure of which remodeling projects offer the greatest potential return based on their geographic area may wish to consult Remodeling's 2019 Cost Vs. Value Report. Review the contents to compare popular remodeling projects and discover which ones can add the most to your home's resale value, allowing you to recoup the highest percentage of your money.
2. Perform Your Own Installs
It's best to hire a professional for repairs and upgrades that require a special license or expertise to complete safely. This still leaves plenty of opportunities to complete home remodeling on your own. Turn to remodeling books, magazines, and online instructional videos to learn how to complete almost any installation. Some upgrades and repairs are more manageable than others. A few basic installs that may not require a professional include:
Bathroom vanities and tops
Sink faucets
Pre-fabricated shower units
When attempting DIY projects, allow extra time to learn how to perform the install before you begin. This might mean watching several online tutorials before purchasing materials and attempting the project.
3. Use Look-a-Like Materials
A fresh coat of paint can change the entire feel of a room. If you have something more adventurous in mind, you might use look-a-like materials to mimic the desired appearance but only if the original is structurally sound.
For example, if you have your heart set on replacing your old wood cabinets with new wood ones, apply wood veneer for a fraction of the cost while achieving the same visual effect. Or, if hardwood or tile flooring is on your remodeling wishlist, use vinyl sheet or peel-and-stick flooring to mimic the look without breaking the bank.
Avoid running out of funds before you finish your project by having a plan before you make your first purchase. After you've set the last piece of your project in place, sit back, and enjoy the fruits of your labor.