Home Upgrades That Boost ROI
August 30, 2023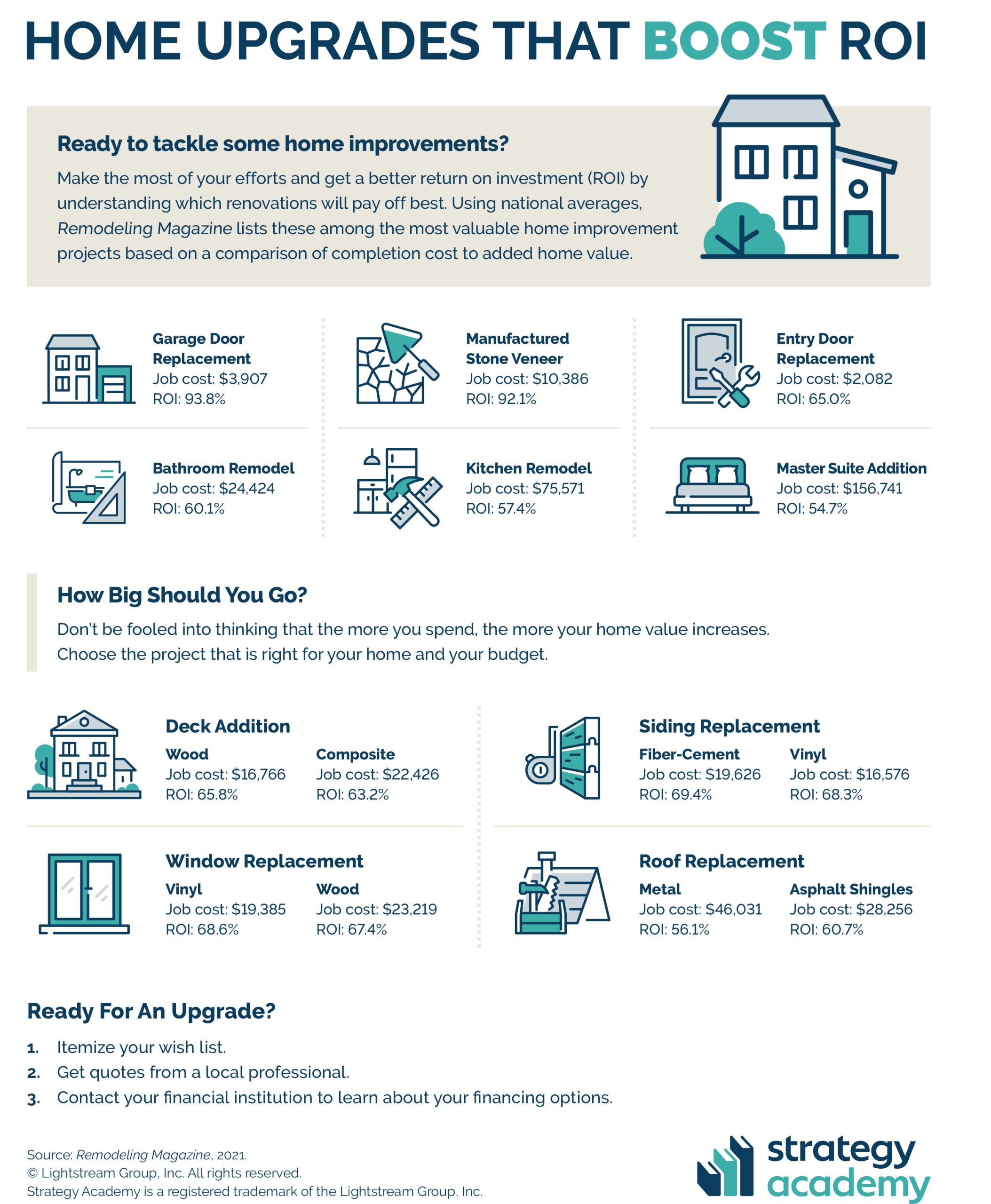 Image Text:
Ready to tackle some home improvements?
Make the most of your efforts and get a better return on investment (ROI) by understanding which renovations will pay off best. Using national averages, Remodeling Magazine lists these among the most valuable home improvement projects based on a comparison of completion cost to added home value.
Garage Door Replacement: Job Cost: $3,907 ROI: 93.8%
Manufactured Stone Veneer: Job Cost: $10,386 ROI: 92.1%
Entry Door Replacement: Job Cost: $2,082 ROI: 65.0%
Bathroom Remodel: Job Cost: $24,424 ROI: 60.1%
Kitchen Remodel: Job Cost: $75,571 ROI: 57.4%
Master Suite Addition: Job Cost $156,741 ROI 54.7%
How Big Should You Go?
Don't be fooled into thinking that the more you spend, the more your home value increases. Choose the project that is right for your home and your budget.
Deck Addition:
Wood Job Cost: 16,766 ROI: 65.8%
Composite Job Cost: $22,426 ROI: 63.2%
Siding Replacement:
Fiber-Cement Job Cost: $19,626 ROI: 69.4%
Vinyl Job Cost: $16,576 ROI: 68.3%
Window Replacement:
Vinyl Job Cost: $19,385 ROI: 68.6%
Wood Job Cost: $23,219 ROI: 67.4%
Roof Replacement:
Metal Job Cost: $46,031 ROI: 56.1%
Asphalt Shingles Job Cost: $28,256 ROI: 60.7%
Ready for an Upgrade. Start with these three steps:
Itemize your wish list
Get quotes from a local professional
Contact us to learn more about your financing options.