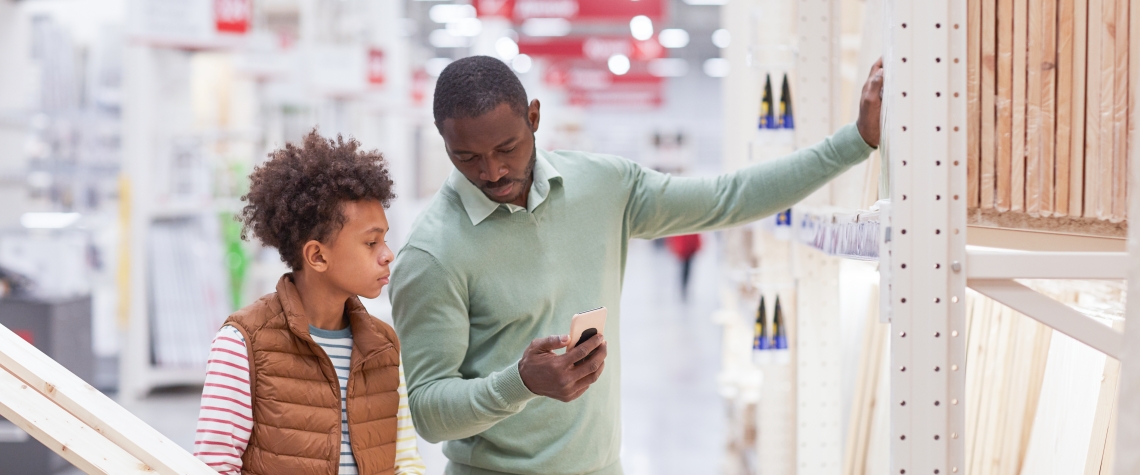 How to Plan Your Home Renovation So It Doesn't Go Over Budget
June 09, 2021
If a home renovation tops your summer to-do list, figuring out how you'll pay for it likely comes in a close second. According to HomeGuide, the average cost to remodel is between $19,800 and $73,200. Even if you have money set aside for your project, making sure you don't go over budget could help you avoid remodeling remorse.
Here's how to stick to your home renovation budget.
Know your purpose.
Define your remodeling goal. Is the project's purpose to increase the resale value of your home or improve its aesthetic appeal? Some home improvement projects can serve multiple purposes. But unless you have at least a general idea of what you want, spending can quickly exceed your available funds. A vision of your home renovation project could begin with exploring your design options online, in-store, or by scanning interior design magazines.
Set a project budget.
It's tempting to set a budget before you have a plan, but there's a risk to this seemingly logical sequence. It's easier and more affordable to cut back on established plans than to stretch your finances to pay for the project. Based on your budget, eliminate specific project elements until the goal and budget are aligned. Reconsider certain projects if you don't have enough money to satisfy the project's original purpose.
Create a secondary budget.
 If your remodeling plans could disrupt day-to-day living, creating a secondary budget could help save you money. Use it to cover costs that do not directly contribute to the project itself. For example, a kitchen renovation project could mean you won't be able to make meals in your home for several days or weeks. Or, a complete plumbing upgrade could mean you'd be better off staying in a hotel for a few nights. Set money aside based on how many days you might be affected.
Depending on the extent of the remodeling work, you may also need to budget for pet boarding or furniture storage during certain parts of the project. Forgetting to plan for incidentals could cause you to pay a premium for last-minute accommodations, boarding, or storage.
Establish firm time limits.
Your budget helps set automatic financial limits on the project. However, a new design trend or even a contractor's suggestions could have you entertaining changes that would exceed your budget and timeframe. Before you start the project, establish a firm end date. The longer the project remains undone, the more you might end up paying for it.
Decide how much will be DIY vs. contractor work.
If you have the expertise to complete portions of the project, you could save a substantial amount of money. But taking on more than you can handle could cause you to go over budget, especially if a contractor has to redo your work. Iron out who will do what by speaking with a home improvement professional before the project begins.
When you find you have more project ideas than money, consider using ENB's HomeLine to create the living space of your dreams. This home equity loan works like a line of credit that you can access as needed. Borrowing limits are based on the equity in your home and are subject to credit approval.
Contact ENB at (877)773-6605 to learn more or apply online now.