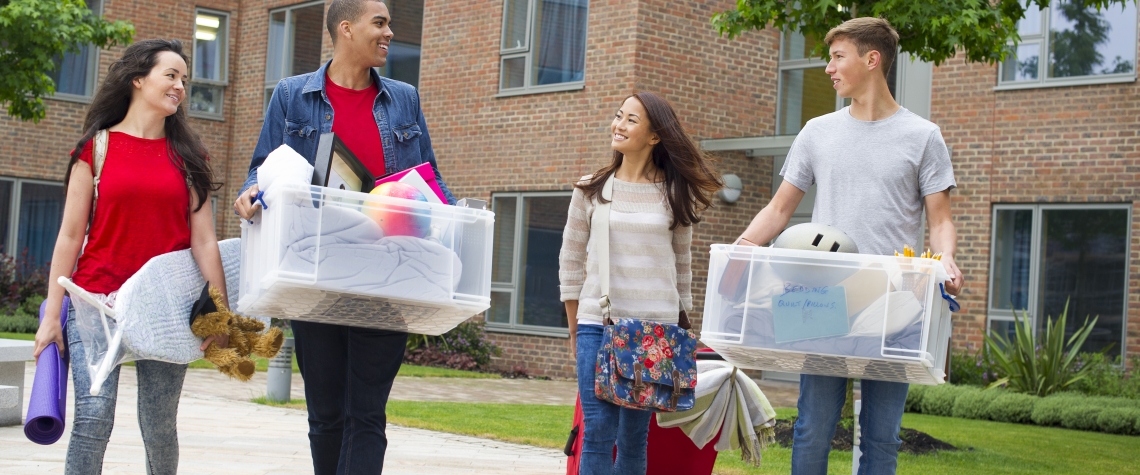 Tackle Move-In Day Like a Pro
July 08, 2020
Although there is much uncertainty still surrounding Covid-19, it looks like most colleges intend to welcome students back to their campuses this fall in some way, shape or form. As everyone awaits final guidance, it's best to be prepared to move quickly once final approval is given as college move-in day is approaching fast.
If you haven't experienced it before, plan for a long afternoon of organized chaos. Along with the usual stressors of moving, you'll also be dealing with crowds, navigating campus and trying to make a tiny, white box of a room feel homey. Did we mention you'll be doing all of this in just 1 day?
Here are some simple tips to help keep you calm in the storm of boxes, bags and new beginnings.
Pack up in advance.
Make sure everything is ready to go a day or two before you leave. It's best to pack all boxes and bags in the car in the reverse order you'll be needing them, and remember to label everything so it's all easy to find. Staying organized from the very beginning is the key to a good start on move-in day.
Buy early.
Just like packing, it's a good idea to purchase anything you're buying in advance of the college move. This means you get to skip the crowds and ease some of the stress of move-in day. If you're going to Walmart or Target, make the trip a month or a few weeks ahead of time so the store isn't already picked over by other students.
If you're buying anything online, make sure you order in advance to allow for shipping time or any mess-ups that might occur. Preparing everything ahead of time will help make move-in day a better experience for you and your student.
Look up the school's policies.
Colleges have a lot of rules, including ones for dorm living. Your kid's new school probably has policies on damaging the walls, getting lofts for the beds and what students are allowed to have. Many schools don't allow toasters or candles. Sometimes you won't be able to put nails in the walls. And there are probably size requirements for a mini fridge.
Ask your student to look up the college's regulations before you buy anything. If they can't find the info in any packets they've received or on the school website, have them ask their admissions counselor.You'll also want to comply with any restrictions or practices put in place to keep everyone safe from Covid-19.
Connect with roommates before move-in day.
College is a lot different now than it was a few decades ago. Nowadays, students can connect with their roommates long before move-in day. Make sure your student communicates with their roommate(s) in advance to find out what they need to bring and what can stay home. If your student doesn't contact their roommate(s), they might end up with 3 couches and 4 mini fridges, or none at all.
Unwrap before packing.
Take the packaging off of anything you buy so you won't have to deal with the hassle or the extra garbage the day of. You and your student will have enough to worry about on college move-in day! Removing the wrapping from new scissors, batteries, sheets and hangers will give you one less thing to stress about.
Bring cleaning supplies.
Imagine packing everything up, getting in the car, and driving hours for college move-in day only to find dust bunnies in a dirty room. Hopefully this won't happen to you, but bring some cleaning supplies just in case, such as rags, cleaners and disinfecting wipes. Be sure to pack cleaning supplies in the car last so they're right on top and ready to go if you need them.
If you don't need them, you can still leave them behind for your student to have during the school year. Hopefully they'll actually use them!
Bring tools.
Another thing you might need the day your student moves is a toolkit. You never know when you'll find yourself putting together a bookshelf or hanging a poster (if the school allows nails). Remember to pack these in the car on top with the cleaning supplies, you might need them sooner than you think. It's also a good idea to buy a small toolkit you can leave with your student. They might end up needing to do some handy work during the school year.
Check out the space first.
The first thing to do on move-in day is find the right room. Don't try to lug up a few loads of boxes on your first trip. Locate your student's room first, introduce yourself to their roommate(s) and parents and then start to make a plan for where everything is going to go. Also, don't be afraid to rearrange the furniture to find a layout that works best.
Use extra space.
Your student's dorm may seem small – because it is. However, there's a lot of hidden space you can maximize. For instance, bed lifts add a few precious inches, making room for plastic bins and tubs to be filled with things like extra sheets, blankets, towels, seasonal clothes and a first aid kit.
Take advantage of vertical space by adding a tall bookcase, or even stacking plastic organizers. Also consider investing in storage ottomans, closet organizers and adhesive tape to make the most of the space you've got. It'll seem like a challenge at first, but there are lots of ways to find more space for your student. Don't be afraid to get creative.
Relish the moment.
The most important thing to remember on college move-in day is to enjoy it. This is a big step for your student, and it's great you get to be there for it. Starting a new chapter in life can be scary, so help your student get excited by offering support and enthusiasm.
There are a lot of things to handle on move-in day. Remember to prepare and pack everything early. Have your student look up school policies and connect with their roommate in advance. Don't be overwhelmed in the process, and try to use the dorm room space in the best way possible. Above all, enjoy the big milestone with your student.