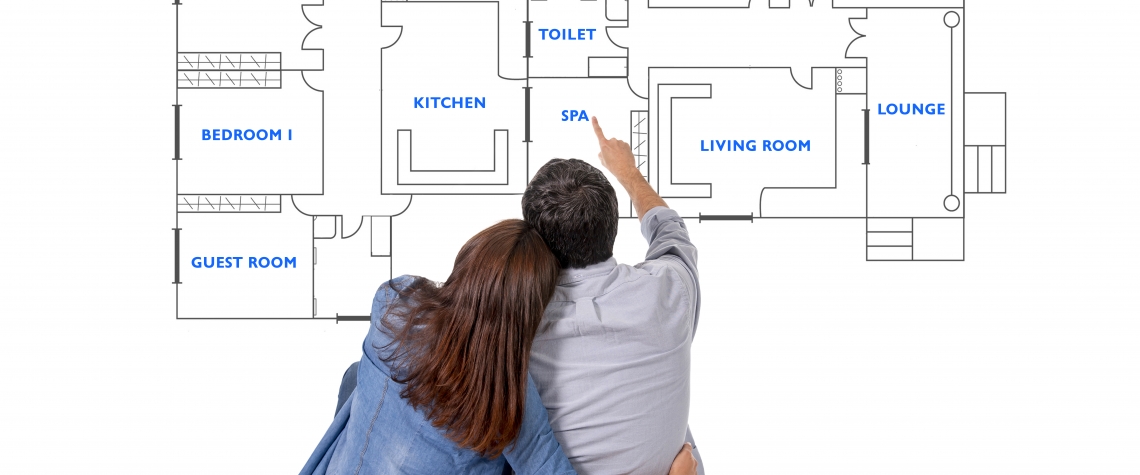 Everything You Need to Know About a Construction Loan
October 15, 2021
Searching for the perfect home can be exhausting, especially when none of the online virtual tours come close to your design preferences or budgetary needs. Many home shoppers realize that getting their dream home might mean building their dream home.
When you build a home from the ground up, you can ensure it matches your square footage needs, budget, and personality. But financing a new build is different than financing the purchase of an existing home. To finance the construction of your new home, you will need a construction loan, not a traditional mortgage.
What is a construction loan?
 A construction loan is a source of short-term financing that helps borrowers pay for the costs of building a new home. Funds cover the costs of land, building materials, permits, labor, and other items required for the specific geographic location. Some construction loans may allow additional expenses, such as home appliance upgrades, fencing, sod, and sprinkler systems.
Typically, borrowers make interest-only payments on the amount borrowed while the house is being built. Once construction is completed, borrowers can close on the home by converting the construction loan to a traditional mortgage loan or paying off the home's balance using other funds.
 How Construction Loans and Traditional Mortgages Differ
 Traditional mortgage loans are disbursed in one lump sum to the seller at closing. Construction loan funds are paid to the builder in phases. When the builder requests funds to advance to the next construction phase, an inspector will visit the worksite to confirm the build's status and report those findings to the lender. The lender will then disburse the requested funds according to a pre-determined schedule.
For both traditional mortgage loans and construction loans, applicants must meet minimum income and credit score requirements. Construction loans also require applicants to submit additional documentation, including detailed project plans and builders contract.
 Types of Construction Loans
 ENB offers a variety of construction loans, and each type of loan offers unique features to meet borrowers' specific needs and situations.
 Construction-Only Loans are the ideal solution for experienced homebuyers who plan to use the proceeds from the sale of their existing home to pay off the loan. Break ground on your new home with as little as 5% down. With high-dollar loan amounts and interest-only payments during a typical 12-month loan period, you can keep more cash in your wallet while your home is being built. Borrowers do not have to deposit escrow for property taxes or homeowners insurance with a Construction-Only Loan.
A Construction-to-Permanent Mortgage Loan combines the benefits of a Construction-Only Loan with a traditional mortgage without needing to close on the project more than once — which saves you time and money. This loan allows builders to draw down funds during each construction phase. It then automatically converts to a permanent mortgage once the home build is complete.
Similar to a construction-only loan, interest is only paid on the balance. Lock in a mortgage interest rate during the construction phase, and you can still request a lower rate if it becomes available when it's time to move into your new home.
 Construction Renovation Loans give homeowners and homebuyers the flexibility to consider different options. Use the funds to renovate your current home or purchase a fixer-upper and make improvements that reshape an existing structure into your dream home. With down payments as low as 5%, this ENB loan has many of the same features as a Construction-to-Permanent Mortgage.
Flex-To-Fixed Construction Loans give borrowers maximum benefits pre- and post-construction with a single closing. This loan allows you to select from multiple rates and program options before construction and after the build is complete. You can lock in a mortgage loan rate with no additional fees for rate adjustments. Choose from a variety of other features to create a seamless financing transition from build to move-in.
A Lot Loan can eliminate the pressure you might feel to find the perfect piece of property and builder within a short timeframe. If you've found an ideal parcel, but aren't ready to start construction, this loan could be what you need to stake your claim.
 Important Construction Loan Considerations
 While construction loans allow you to design and build the home of your dreams with flexible financing options to fit your budget, borrowers should also know:
Loan funds are paid directly to the builder.
You may need to self-finance the cost of a professional designer or architect.
Loan approval often requires a copy of the proposed builder's contract, design proofs, construction timetable, and the estimated cost for the build.
Since every potential homeowner's situation is different, we encourage you to speak with an experienced home loan professional who can help you identify other construction loan considerations and make it easier to determine the best funding source for your needs.
Customize your next home to your heart's content when you finance the build with a construction loan. ENB offers a variety of Construction & Renovation Loans for first-time and experienced home buyers. Contact us online or call us at (877) 773-6605 now to discuss your options.